Big Upgrade News
Here at SignUpGenius, we really want to woo our users on Valentine's Day and show you just how much we care. We were all set with a box of chocolates and a dozen red roses to be delivered to each of you, when we were struck by an even better idea. Why not be creative and give our users a more unique pair of gifts? So we created two brand new features for you to love … SignUpGenius Payments and SignUpGenius Pro.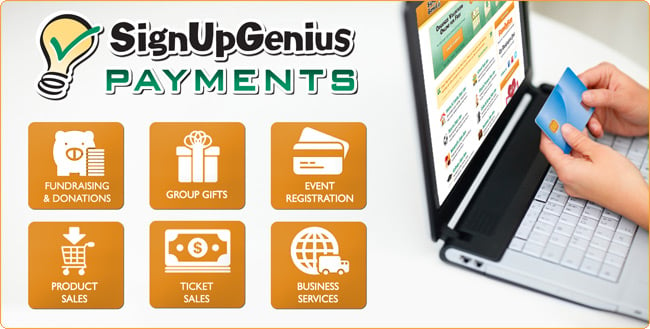 With SignUpGenius Payments, you'll now have the ability to accept money on your sign up pages. Want to collect payments for a group gift, coordinate a fundraiser, sell tickets or products or coordinate event registration with greater ease? Now you can by using the same simple sign up creation wizard you've always had available. If you'd like to explore all of the possibilities for using this useful feature, sign up for one of our upcoming webinars designed to familiarize you with SignUpGenius Payments.
FEATURES

Make payments required or optional to sign up on a per-item basis
Set different prices for user-defined options like sizes
Accept donations where users choose how much to pay
Show a donation goal and amount raised on your sign up
Enter offline payments through the administrator tools
Export reports of your sign up items with payment info
---
ALSO NEW: SignUpGenius Pro
In response to requests from our power users, we designed SignUpGenius Pro as an add-on suite of features to make volunteer coordination even easier for large groups.
Now whether your organization needs to set up multiple administrators for a set of sign ups, collect event registration information with several custom fields, or store a larger number of unique images for sign ups, this tool is for you. Check out SignUpGenius Pro to learn more.
FEATURES:
Multiple administrators for your account
Expanded storage for custom images
Multiple notification emails for your sign up page
Multiple custom questions on your sign up
Multiple admin-only hidden fields on your sign up
---
This Valentine's Day, we hope you'll still receive that box of chocolates and dozen roses from some adoring admirer in your life. But if you have to wait a bit for that special someone to come along, think of our new features and remember…you'll always have SignUpGenius.
Read the official press release.
Posted by Dan Rutledge
Posted by Dan Rutledge on Mon Feb 18, 2013 1:36 PM EST
Thanks everyone for the kind words and feedback. A mobile app is definitely high on our priority list. Now that the payments is released, mobile should be something that comes together in the near future. Thanks!
Posted by Jessica Furtney on Sun Feb 17, 2013 11:01 PM EST
How soon can we see an app for iPhones with sign up genius?
Posted by Jill Tiefenbrunn on Sun Feb 17, 2013 6:54 PM EST
I would like to make a suggestion. If you could add a comment thread under each event for those that have signed up or joined, that would be great. That way all the members could touch base with any new information related to that event.
Posted by Allison Holland on Sat Feb 16, 2013 6:35 PM EST
I am so excited for this!
Posted by Mark Dwyer on Sat Feb 16, 2013 11:55 AM EST
Awesome! It looks like you've added these features just for me!
Posted by Marcy simon on Fri Feb 15, 2013 9:56 AM EST
Great new features. Would love to see an app, now.
Post Your Comment
NOTE: You do not need an account to post. For the ability to delete, create an account.