Upgrade News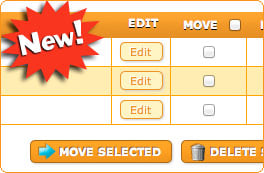 Great news! We've added a new tool to help sign up creators with the administration of their sign ups! Our new "move" functionality enables sign up creators to quickly move users on their sign ups to another slot. Did one of your dates get cancelled? Are you combining two events into one? Need to move a couple users to a different responsibility that better fits their skills? Not a problem. Forget the old method of deleting people off the sign up and signing them up again in a new slot. With our "move" feature, it takes only a couple clicks to move everyone from their existing slot to another open slot and send them an email notification in the process.
In addition to "move," sign up creators can also "swap" two users from their existing slots. Choose the users you want to swap and we can notify them both by email of the change. It couldn't be easier!
To find the new functionality, login to the site with the account you used to create the sign up and view the sign up. In the admin's toolbar at the top of the screen, choose the "add/edit/delete people" button. You'll see a new column for "move." Check multiple users at once to move people to a new slot. Select one user at a time if you'd like the option to swap.
Check it out and let us know what you think!
Posted by Dan Rutledge
Posted by Dan Rutledge on Thu Jun 6, 2013 11:23 AM EST
Hi Karyn. Yes, we can absolutely assist with that. Please write via the "help" tab on our site and we'll be happy to get you taken care of.
Posted by Karyn Cram on Wed Jun 5, 2013 10:08 PM EST
I have created a signup that has the same slot across multiple days. The slot currently allows two people to sign up on each of the days. Is there a way to modify this slot so that some days the quantity is two and other days the quantity is three? Most of the existing slots already have names associated with them.
Posted by Dan Rutledge on Fri May 31, 2013 8:07 AM EST
Hi Donna. Try our timeslots option on the date/time screen. You can easily create ten slots every day for a week using that option. If you need further assistance, write us via the "help" tab at the top of this page and we can assist directly with your sign up. Have a great day!
Posted by Donna Vandiver on Thu May 30, 2013 5:22 PM EST
I need to create the same 10 slots for every day during one week. How can I do this? There is no recurring event for a day? Help.
Posted by Anita Mosier on Wed May 22, 2013 11:47 AM EST
Yes that worked!! I didn't realize there was an option to change it. Thanks so much Dan, for being so quick to reply. You and Signup Genius are awesome!!
Posted by Dan Rutledge on Wed May 22, 2013 10:38 AM EST
Hi Anita. Sorry for any confusion. You will always be able to scroll in your browser to see the entire page, no matter which format you use. If you want the older "sign up for one item at a time" format, simply login and go to the "slots" screen and the advanced options area. For more assistance, please write us via the help tab at the top of this page. Thanks!
Posted by Anita Mosier on Wed May 22, 2013 10:06 AM EST
I do not want the "Submit and Signup" button to be at the bottom of the page. I can't see the entire page because the Submit button area covers it up. How do I go back to the old way where it lets you sign up from the "Available Slot"?
Posted by Dan Rutledge on Tue May 21, 2013 11:19 AM EST
Hi Diane. Please write us via the help tab at the top of this page and we'll be happy to help. The new "move" function does not affect signing people up. Thanks!
Posted by Purdue Extension Dubois County on Tue May 21, 2013 11:12 AM EST
Great, but I am having trouble signing new people up now. Where did all the emply slots go to sign people up?
Posted by Jesse Walters on Tue May 21, 2013 1:39 AM EST
Ah..... Just in time!!! This is a very useful tool. Now it's time for you guys to work with the reports. LOVE LOVE LOVE Sign Up Genius.
Posted by ELI PDU on Mon May 20, 2013 4:40 PM EST
Pefect timing. I will be needing this feature by Thursday of this week and was groaning to think I might have to manually delete and manually re-add a whole bunch of people. Just being able to move them will save me lots of time. Thanks!
Posted by Mark Dwyer on Mon May 20, 2013 12:22 PM EST
Great new functionality! Thanks geniuses.
Post Your Comment
NOTE: You do not need an account to post. For the ability to delete, create an account.