Why Let Kids Have All The Fun? Go #BackToWork!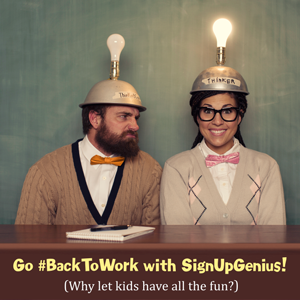 Back-to-school season is always a crazy time, but it seems a little unfair for adults. After all, we go to work every day. No major retailer throws us a big sale. No one takes pictures of us with cute signs! This year, SignUpGenius is turning the tables because adults deserve to have a little fun, too.  We're introducing Back to Work, a fun campaign that imagines what it would be like if adults got as much hype at work as kids do for Back to School.  Want to participate? Here's how: 
Share your funny #BackToWork comment on Facebook, Twitter or Instagram
Tag @signupgenius
Hashtag #BacktoWork
 Not sure what to write? Check out these examples below.
We can't wait to hear your creative take on going back to work! Share on Facebook, Pinterest, Instagram or Twitter!
Posted by Kayla Rutledge
Posted by Barb Hartman on Mon Sep 7, 2015 10:01 AM EST
I just want to say that I love Sign Up Genius! It is like someone took my brain and put it in an organizing tool. The more I learn about it the better it gets! It has everything I need to keep all my coordinating duties in order. Thank you for coming up with this.
Post Your Comment
NOTE: You do not need an account to post. For the ability to delete, create an account.