Big Game Entertainment
Kick off your tailgating party, potluck style!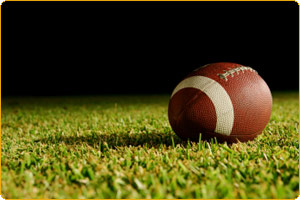 What's just as much fun as going to a big sports game?  Joining friends for a pre-game party.  When you gather together for some marvelous game-day fare, everyone wins.  Here are a few key tips:
Be Prepared!  Stock Up on Supplies
Disposable plates, cups and flatware
Serving pieces and utensils for each dish
disposable, re-sealable containers and zip-top plastic bags
An instant-read thermometer for cooking meat
Liquid soap and hand sanitizer
Paper towels
Trash bags
Charcoal, fluid, and lighter if grilling
Use two coolers for packing...one for food and one for beverages.  Foods will stay colder because the food cooler won't be opened as often as the one containing the beverages.
Ice, beverages and good food!
Game Time Eats
The Goal: Prepare as much food ahead of time as possible, and enlist your friends to bring their favorite game foods and drinks, so you can sit down and enjoy the fun too!
Fire up the grill for a smoky barbeque blitz.  Its tangy, tender and so spectacular, you'll satisfy every sports fan. 
Pick up packaged precut, pre-washed salad greens, bottled salad dressing and an assortment of toppings for quick-fix salads.
Pack convenient, ready-to-go foods like fruit cups and pre-cut vegetable trays, prepared dishes like guacamole, salsa and queso, and your favorite crackers and tortilla chips. Scrumptious dips are another perfect addition to your party spread.
Bring along plenty of condiments for your brats, burgers and hot dogs.
Don't forget rich, gooey and delicious desserts for a sweet ending to your easy game time entertaining.
Posted by Helena LaGarde
COMMENTS:
There are currently no comments for this page.
Post Your Comment
NOTE: You do not need an account to post. For the ability to delete, create an account.
Tailgating Parties Made Easy!
| | |
| --- | --- |
| | BUILD A FREE SIGN UP SHEET |
| | WE SEND OUT EMAIL INVITES |
| | PEOPLE SIGN UP ONLINE 24-7 |
| | EVERYONE GETS EMAIL REMINDERS |
I absolutely LOVE your site. I am a home room mom, prayer coordinator, on the board of a volunteer group, soccer mom, etc. and this makes my life soooo easy. I would gladly pay and can't believe you do this for free.
Cynthia Morris
Dallas, Texas
See what others say
Recent Home & Family Articles
Plan the Perfect Picnic
Pack up those delicious sandwiches, side salads, drinks, and desserts and head outdoors for a refreshing summer meal.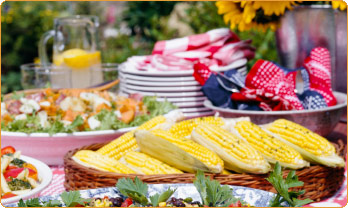 A Summer BlockBuster
Host a Kid Friendly 4th of July Picnic