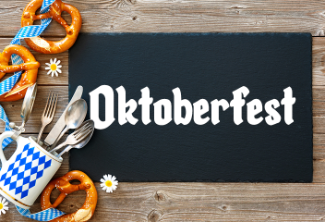 Oktoberfest
Grace Oktoberfest 2022
Willkommen!
Oktoberfest @ Grace Lutheran Church
Sunday, October 2 @ 4pm
Come enjoy a variety of homemade German fare, an oompah band, a traditional Laterne parade and more.
Beer provided by Kinslahger Brewery in Oak Park
and Around the Bend Brewery in Chicago.
Click here to pay for your tickets. TICKET PURCHASE
Tickets not paid for prior to the event will be charged the "day of" purchase price. 
We can always use your help in making this happen! 
Sign up here!
Date:
10/02/2022 (Sun.)
Time:
4:00pm - 6:00pm CDT
Location:
Grace Lutheran School

7300 Division St, River Forest, IL 60305
| | | | |
| --- | --- | --- | --- |
| Created by: | | James McClanahan | |
MY RSVP
Will you be attending the event?
Did you already RSVP? You can Edit your RSVP.

RSVP RESPONSES
Responses:
Yes: 33 No: 0 Maybe: 0


Adult Guests:
Confirmed: 64 Maybe: 0


Child Guests:
Confirmed: 31 Maybe: 0


| | |
| --- | --- |
| | Maria Robinson (4 adults, 1 child) |
| | |
| --- | --- |
| | Abigail Hodges (2 adults, 3 children) |
| | |
| --- | --- |
| | Amy Juel (1 adult, 1 child) |
| | |
| --- | --- |
| | Joanna Schubkegel (2 adults, 2 children) |
| | |
| --- | --- |
| | Rebekah Baltic (2 adults, 2 children) |
| | |
| --- | --- |
| | Petia Kostadinova (2 adults, 1 child) |
| | |
| --- | --- |
| | Emily Isenberg (2 adults, 3 children) |
| | |
| --- | --- |
| | Marilyn Moehlenkamp (2 adults) |
| | |
| --- | --- |
| | Jeff Blackman (2 adults, 2 children) |
| | |
| --- | --- |
| | Roberta Gillespie (2 adults) |
| | |
| --- | --- |
| | Andrea Pfieffer (2 adults) |
| | |
| --- | --- |
| | Nikki Schmidt (1 adult, 1 child) |
| | |
| --- | --- |
| | Hannah Langhoff (1 adult) |
| | |
| --- | --- |
| | Laurie Schubkegel (2 adults) |
| | |
| --- | --- |
| | Jessi Pederson (2 adults, 3 children) |
| | |
| --- | --- |
| | Christina Starrick (2 adults, 3 children) |
| | |
| --- | --- |
| | Jim McClanahan McClanahan (2 adults) |
Esther Armstrong (2 adults)


Esther and Neal




| | |
| --- | --- |
| | Megan Galeener (2 adults, 3 children) |
| | |
| --- | --- |
| | Tory Lowdon (2 adults, 2 children) |
| | |
| --- | --- |
| | Johanna Johnson (2 adults) |
| | |
| --- | --- |
| | Dave Lyle (2 adults, 3 children) |
| | |
| --- | --- |
| | Carolyn Becker (2 adults) |
| | |
| --- | --- |
| | Allison Tan (1 adult, 1 child) |