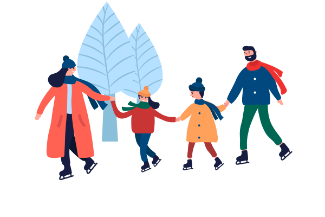 Evangel UMC 2022-2023
February Ice Skating Soldiers Field Oval Track
What: Evangel Kids Club February Activity: "Ice Skating, Booting and Visiting" at the
Big Oval at Soldiers Field Park in Rochester.
When: Sunday February 26- 2:00 -4:00 p.m.
Where: Meet at church to car pool at 1:45 directly at The Soldiers Field at 2:00
Who: Evangel Kids Club (Children and Youth- Kindergarten- Grade 12) And Families
and Friends. The more the merrier! Invite! Invite!!
Cost: FREE
Why: To be together the best and safest way as a church family while enjoying
Minnesota Winter.
Our Evangel February Kids Club activity will take us outdoors to the big Oval at Soldiers
Field Park in Rochester to twirl, swirl, and glide across the ice as we skate to our hearts
content! The big oval is a beautiful outdoor rink that many from our community enjoy
all winter! Don't have skates? No problem! Skate rental is available. A warming house
is also available to change skates and warm up.
Families may also bring young ones who can also wear boots instead of skates. PLUS,
you do not have to skate if you do not want to. Just come to visit with your church
family and friends and visit. This will be such a fun day to relive the stresses of the
world as we skate and fellowship together!
After ice skating come and join us up the street at the Craven's house for fellowship, fun, some snacks and hot chocolate to warm you!
523 7th Avenue SW Rochester
Please review the available slots below and click on the button to sign up. Thank you!
Date:
02/26/2023 (Sun.)
Time:
2:00pm - 5:00pm CST
Location:
Soldiers Field Park
| | | | |
| --- | --- | --- | --- |
| Created by: | | Clancy Craven | |
MY RSVP
Will you be attending the event?
Did you already RSVP? You can Edit your RSVP.

RSVP RESPONSES
Responses:
Yes: 1 No: 0 Maybe: 0 No Response: 312


Guest Count:
Confirmed: 2 Maybe: 0