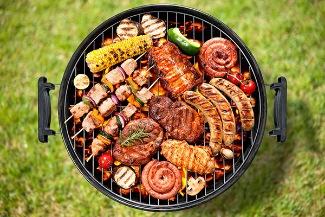 2021 Field Day Dinner
2021 Field Day - Saturday Night Dinner
PARC loves fellowship and food !!
Ham Radio and a field day, what better reason to have a cook-out with old and new friends.
Please join us Saturday evening, Fighting Creek Park, for a family style cookout at the N4POW Field Day setup.
Dinner will be ready between 5pm and 7pm, and served at the Pavilion.
MENU:
Hamburgers and Hot Dogs from the grill

Pork BBQ (Will's famous reciepe)

Chicken BBQ

Baked Beans

Cole Slaw

Macaroni, Potato Salad and chips

All the fixin's

Desserts coming out of your ears

Assorted Drinks
Let us know that you're coming so we can make sure we have enough for everyone. EVERYONE is welcome including family.
I've added a few items on the signup that you can bring if you would like to pitch in to help. Check back with this signup as we get closer to the Saturday to get an idea of how much to bring based on the number of RSVP's.
Please RSVP and take a look at the available items to bring.
Just click on the button below to sign up. Thank you!
Date:
06/26/2021 (Sat.)
Time:
5:00pm - 7:00pm EDT
Location:
Fighting Creek Park

2505 Mann Rd, Powhatan, VA 23139
| | | |
| --- | --- | --- |
| Created by: | Curt and Debbie Nellis | |
MY RSVP
Will you be attending the event?
Did you already RSVP? You can Edit your RSVP.

AVAILABLE TO SIGNUP TO BRING:

Unsweet Tea - Gallon jug (4)




All slots filled




Glenn Nofsinger




Tea and fizzy water

| | | |
| --- | --- | --- |
| Sweet Tea - Gallon Jug (4) | | All slots filled |

Dessert item (8)

- Some type of yummy desert to share. Your choice.




All slots filled




Judi LeHuquet (2)




Key Lime Pie and Apple Craisin Pie

Steven Groseclose (2)




cherry pie and a cake

Box of assorted chips (3)

- Variety pack




All slots filled




12 count case of soda (4)

- Your choice, regular or diet




All slots filled




Carlyle Cordle




Coke Zero, and Canada Dry Ginger Ale (diet)

RSVP RESPONSES
Responses: Yes: 21 No: 0 Maybe: 1

Adult Guests: Confirmed: 31 Maybe: 1

Child Guests: Confirmed: 0 Maybe: 0




| | |
| --- | --- |
| | Richard Morrisey (1 adult) |

| | |
| --- | --- |
| | Glenn Nofsinger (2 adults) |

| | |
| --- | --- |
| | Steven Groseclose (1 adult) |

| | |
| --- | --- |
| | Nathaniel Wooley (1 adult) |

| | |
| --- | --- |
| | Carlyle Cordle (2 adults) |

| | |
| --- | --- |
| | Chris Williams (2 adults) |

David & Leah Thomas (2 adults)


Where the Cool Kids play radio and have FUN !





| | |
| --- | --- |
| | Curt and Debbie (2 adults) |