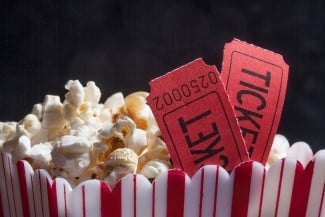 Movie Night
Movie Night ~ The Blind Side
Mark your calendars for Sunday, October 10th at 5:00pm!
Our next Movie Night, The Blind Side, will be on Sunday October 10th at 5:00 pm. It tells the true story of Michael Oher, the All-American college football star and offensive tackle for the Baltimore Ravens.  He grew up in Memphis, where he was homeless and had no family to care for him. He attended a Christian School where he met S.J. and Collins Tuohy, the children of a wealthy family which lived by its Christian faith. Their mother, Leigh Anne, invited Michael into their home, where he eventually became one of the family. Although his physique and coordination made him an obvious asset for school sports, his low grades excluded him.  Leigh Anne, her husband Sean and a hired tutor worked with him to raise his grades so that he could play.  He went on to star for Old Miss and then as a professional football player.  Common Sense Media rates the movie as suitable for age 11+.  Popcorn, pizza and soft drinks will be available at 5 pm and the movie will begin at 5:30. Bring your own food and wine if you wish. All are welcome to wear the fan attire of their favorite football team. Go to Sign Up genius to RSVP, where you can also request or provide transport for those who would prefer not to drive in the dark.
MY RSVP
Will you be attending the event?
Did you already RSVP? You can Edit your RSVP.

AVAILABLE SLOT

| | | |
| --- | --- | --- |
| Request Transportation (10) | | |

RSVP RESPONSES
Responses: Yes: 6 No: 0 Maybe: 0 No Response: 8

Adult Guests: Confirmed: 10 Maybe: 0

Child Guests: Confirmed: 2 Maybe: 0




| | |
| --- | --- |
| | Elvira Highley (2 adults, 2 children) |