10 Incredibly Healthy Soccer Snacks!
Creative Ideas for a Sensible Soccer Snack List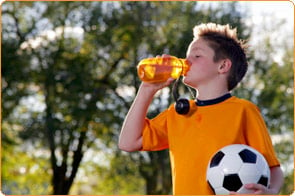 Although there are a zillion packaged snacks to be found on grocery shelves, most of them are high in sugar, high in fat, and lacking the most important element… real, nutritional value. I know soccer snacks need to be easy, quick and handy, but convenience doesn't mean you can't sneak some better-for-you options into your soccer season. Fortunately, healthy options other than orange slices and bananas do exist. All it takes is a little bit of planning and getting everyone on board with a good-for-you game plan.
Think of a soccer snack as a mini-meal that helps provide nutrients and the energy children need to learn, focus and play well. These snacks are "list toppers" as they have more nutrients than traditional snacks, and many have more "staying" power to keep kids full longer during a practice or a game – not to mention plenty of kid-appeal.
When it's my turn to bring the soccer snacks, I "bring it" with feel-good foods, packed with real nutrition. I try to focus on energy-crazed complex carbs, powerful proteins, yummy natural flavors & tons of good taste that everyone loves.
---
HEY COACHES!   SignUpGenius can organize your team snacks and activities with ease.  Find out how.
---
10 Healthy Soccer Snacks for your Soccer Team Snack List
1. For a quick pick-me-up, I offer hearty mini-sandwiches out of graham or whole grain crackers topped with a squeeze of peanut butter.
2. I have found that an all time favorite is the fruit kabob. I simply put pineapple chunks, grapes and cheese on skewers (or any seasonal fruit would work). They have the taste kids love and nutrition you can feel good about.
3. For a real energy boost, I will cut half a bagel into 4's and fill with peanut butter or strawberry cream cheese. If I can get a sweet deal on strawberries, I will add a single slice to each sandwich.
4. A real satisfying snack of an easy home-made trail mix goes a long way. You can create your own sweet and savory mix and pack it with healthy, all-natural ingredients:
Dark chocolate covered raisins or almonds
Honey roasted cashews, peanuts or almonds
Some high-fiber cereal (we like Kashi Cinnamon Heart to Heart or Honey Sunshine cereals)
Pumpkin seeds
Home-made popcorn
5. Jump start a great second half with no-sugar added applesauce and whole grain fig Newtons (my kids like the strawberry Newtons the best).
---
Appoint a Snack Parent and collect money from team using SignUpGenius Payments!
---
6. For a big nutrition boost, frozen yogurt tubes are great grab-and-go snack. They are easy to keep cold in a cooler and they travel very well.
7. A fruit salad of crunchy bite-sized mandarin oranges, peaches, apples or pears is fresher, more flavorful and always very popular. Toss it with just the right amount of wildflower honey and see how they like it.
8. For a creative snack that's always a hit, fill the bottom of a small Dixie cup with ranch dressing and stand baby carrots up in the cup.
9. Low-fat cheese sticks or individually wrapped cheese squares are fun to eat and provide plenty of protein that will keep your little ones feeling satisfied much longer.
10. If I plan ahead, I will make a bunch of hearty banana muffins. If I have to use a box recipe, I definitely add extra banana and use applesauce instead of oil. Kids love my muffins when they are crispy on the outside and tender and moist inside— yum!
 
Posted by Helena LaGarde
COMMENTS:
Posted by Alisha Anderson on Fri May 3, 2013 10:16 AM EST
My daughter is sick of oranges an mentioned bananas. I feel like oranges are better for middle of the game snack. Does anyone have best nutrition & value snack, while satisfying 13-14 yr old girls? I like the bagle idea but I'm afraid it will weigh them down.
Report Abuse
Posted by Arthur Gahungu on Wed Apr 17, 2013 11:39 AM EST
WOW, I should share this web link...Grandioso!!!
Report Abuse
Posted by katie mckenzie on Mon Jan 21, 2013 12:25 PM EST
My 2 kids love this site. My sister gave me a recipe of off this site. My oldest tay loves this. He hinds this sight cause its on my bookmarks on my tablet. My youngest tre goes on here wth his brother and they find the best resipice on here.
Report Abuse
Posted by stef lau on Tue Sep 18, 2012 3:18 PM EST
Eileen, one thing about serving snack to kids with allergies...not all parents will be comfortable with foods prepared and washed at home due to cross contamination, but DO feel comfortable if it came in a package with a label. Fruits: cuties, bananas, apple slices in a package, raisins, cranberries may work. The prepackaged snacks I mentioned above and popsicles. You might ask the parents of the allergic children on your team what they feel comfortable with. That is very considerate of you to include everyone. My daughter really appreciates it when she can enjoy the snack along with everyone else.
Report Abuse
Posted by stef lau on Tue Sep 18, 2012 3:14 PM EST
Eileen, my daughter plays soccer and is allergic to Nuts and Dairy as you write above. The following are healthy treats that work with those allergies: Fruit: bananas, apples, packaged apple slices, oranges, cuties, blueberries, strawberries, pineapple, mango, watermelon, kiwi, fruit skewers. (fruit can be served whole or cut and served in cups...tilt it into your mouth..no forks needed). Apple sauce, packaged apple/strawberry sauce thingees, raisins in individual paks, cranberries in individual paks. Veggies such as cucumber, carrots, celery, enamame. Not so healthy, but safe for Dairy and Nut allergic: prepacked jello cups, fruit based popsicles (get dry ice and put in bottom of a cooler...very popular in our area), graham crackers...most brands, pretzels if not manufactured in a facility with nuts, teddy grahams, some nabisco cookies like mini oreos/lauradoone shortbread/animal cookies variety pack, triscuits/wheatthins plain flavor, lay's variety pack if it includes plain and bbq, sunchips if it contains original flavor.
Report Abuse
Posted by Eileen Gonzalez on Fri Sep 14, 2012 8:09 PM EST
What do you do if there is a kid that is allergic to nuts and dairy?? What other healthy options do you have??
Report Abuse
Posted by Nicole Firms on Sat Nov 19, 2011 10:07 AM EST
Hey this is Nicole again!!!!! I love being a team mom.
Report Abuse
Posted by Jessica Bartell on Sat Nov 19, 2011 10:05 AM EST
I really honestly think that oranges are the best thing!
Report Abuse
Posted by Nicole Firms on Wed Mar 10, 2010 8:17 PM EST
Thank you for this information and I love this site so far. Informative with resources and tools to use. This is my first year as Team Mom...and I want to do it the best I can. Thanks =)
Report Abuse
Post Your Comment
NOTE: You do not need an account to post. For the ability to delete, create an account.