How to Plan a Productive Parent-Teacher Conference
The most important strategy is to be prepared.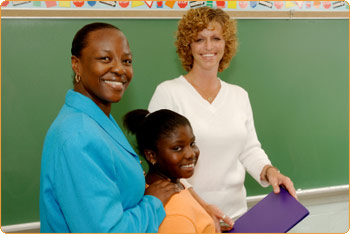 Both teachers and parents want to get the most out of parent-teacher conferences. Conferences give teachers the opportunity to share children's progress and coordinate plans for helping them learn even more. Regularly scheduled conferences with sufficient time allotted for each afford everyone needed opportunities to get to know one another and to plan strategies for working toward shared goals and outcomes. An organized, well planned conference not only presents an opportunity for parents to learn from you, but for you to learn from them.
Plan the Conference
Create a meeting schedule. Allow a reasonable amount of time for each conference.
Choose conference topics. Prepare yourself by thinking about what information parents really should have.
Before conferences, make sure your files on the students are up to date. Also fill out a pre-conference sheet on each child.
Decide whether children will participate. Sometimes it is helpful to have children explain their work and set goals for their own future. Also tell the students what you will be discussing with their parents.
---
HEY TEACHERS AND SCHOOL ADMINISTRATORS!
SignUpGenius can organize your parent teacher conferences online... for FREE.  Find out how.
---
Communicate Prior to Meeting

Communicate the date and time of the conferences. Disseminate information about conferences to all families. Include information about the timing and goals of the conferences, as well as alternative scheduling options in your invitations.
Encourage families to write questions they would like to ask and note any topics they would like to discuss.
Suggest that families talk with their children before the conference. They can discuss what the teacher might say and issues the child would like discussed.
Meet with Parents

Begin by discussing positive aspects of the child's experiences in your class. Always start and end with a student's strengths.
Explain your goals for the child and how each child's progress is determined.
Talk about the child's work. Discuss the child's performance in each subject and go over any assessments.
During official conference times, display student projects and provide additional information on programming, activities, volunteer opportunities and available services.
Listen to parents. It will help you understand what they want for their child. As many parent-teacher organizations suggest, the most effective parent-teacher communication grows out of an truthful and thoughtful collaboration between both parties.
Close the Conference
Close the conference by setting goals for the child's future work.
Suggest strategies for meeting those goals.
Make an agreeable plan to communicate regularly about the student's growth.
After your conferences, create responsive instructional practices based on what you learned about family cultures, home learning environments and a student's strengths and weaknesses. Continue to communicate on an ongoing basis with families, with positive news as well as updates on student progress.
Posted by Helena LaGarde
COMMENTS:
There are currently no comments for this page.
Post Your Comment
NOTE: You do not need an account to post. For the ability to delete, create an account.
Scheduling Parent Teacher Conferences Has Never Been Easier
| | |
| --- | --- |
| | BUILD A FREE SIGN UP SHEET |
| | WE SEND OUT EMAIL INVITES |
| | PEOPLE SIGN UP ONLINE 24-7 |
| | WE SEND EMAIL REMINDERS |
Recent School Articles
How to Plan a Productive Parent Teacher Conference
The most effective parent-teacher communication grows out of a thoughtful collaboration between both parties. Use these helpful tips, to make your next parent teacher conference a great success!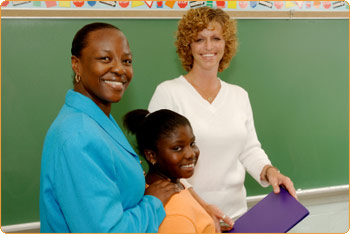 Planning the Ultimate Fall Festival
3 Free Web Tools Every Teacher Should Use
Related Articles
50 End of School Year Tips
As the weather gets warmer and kids get antsy for summer break, it's important for parents and teachers to stay in control. Here are some great tips for managing the end-of-school-year chaos.
20 Tips for a Successful Parent-Teacher Conference