Holiday Entertaining to Entice Your Senses!
Easy and beautiful ways to make Christmas even more memorable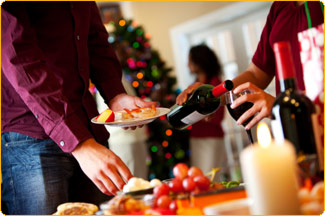 Entertaining during the holidays doesn't have to be complicated or involve throwing an elaborate celebration. There are lots of simple ways you can celebrate the season. We all want our Christmas to be wonderful and when all the senses are stimulated, our memory of the holiday is that much more special. So, as you reflect upon this most beautiful time of the year, take time to see, taste, smell, hear and feel the warmth of the season in your home, and in your heart, as you make this Christmas one that is truly memorable for you and your guests.
---
Invite others to share in the holiday spirit! For any Christmas gathering, party or potluck, save time and money by by-passing printed invites. Check out our elegant free invitations that allow you to track your RSVPs as well as receive comments from invitees.    Learn More.

---
Feast on the Sights (Sight)
Flickering candles, colored lights shimmering in the windows, perfectly dressed holiday trees adorned with lovely trims and big splendid wreaths are the sights of the season.  There is no time like the holidays to decorate with lush garlands and poinsettias everywhere—in the entranceway, on the coffee table, or on the buffet.  Create welcoming centerpieces that make your Christmas table sparkle. Along with holly and evergreens, feature a few blooming flowers among the glittering ornaments during this holiday season.
Fill Your Home with Holiday Fragrance (Smell)
The holidays are one of the times where scents evoke enjoyment, comfort and memories. Give your senses a gift and enhance your home's ambiance. Infuse a room with an uplifting fragrance of majestic holiday pine or a touch of cedarwood, vanilla or warm amber.
Bake Something in the Oven (Taste)
Few things mean home for the holidays more than something yummy in the oven. Whether it's cookies, gingerbread, cinnamon rolls or pie, the smell of these delicious baked goods will bring a warm and comforting feeling to all of those in your home. If you don't bake, don't worry. There are plenty of frozen desserts, or refrigerated rolls and dough just waiting to be popped into your oven for everyone to enjoy.
Oh the Lovely Sounds of the Holidays (Sound)
Christmas songs and bells ringing -- they sound loud and clear.... and tons of children's laughter, bring us good cheer. Let wonderful Christmas sounds set the stage for your holiday memory-making this year. It seems that the sounds of the Christmas Spirit just do a heart good.

Dress to Impress (Touch)
Holiday outfits in lovely silks and taffeta are always splendid.  Decorate your rooms with rich fabrics and textures displayed in curtains and table linens. Place cozy quilts, fleece blankets and holiday pillows all around. A fireplace that gives comfy warmth accentuates decorations for Christmas brings a cozy ambiance of Christmas at home.
Posted by Helena LaGarde
COMMENTS:
There are currently no comments for this page.
Post Your Comment
NOTE: You do not need an account to post. For the ability to delete, create an account.
Plan a festive celebration without all of the stress!
| | |
| --- | --- |
| | BUILD A FREE SIGN UP SHEET |
| | WE SEND OUT EMAIL INVITES |
| | PEOPLE SIGN UP ONLINE 24-7 |
| | EVERYONE GETS EMAIL REMINDERS |
This is such a great tool! Evite is well-known and great, but if you need to coordinate responses as well as volunteers and potluck items... this is the thing!!! What an awesome service you are providing. I'm in the process of planning a potentially large open-house party to celebrate life with a very sick friend in our neighborhood.... Evite could in no way handle what I needed. I'm so grateful to find your service. After only a couple hours of the sign up going live, I was already so relieved I used it!
Jen Niemo
Concord, CA
See what others say
Recent Home & Family Articles
Plan the Perfect Picnic
Pack up those delicious sandwiches, side salads, drinks, and desserts and head outdoors for a refreshing summer meal.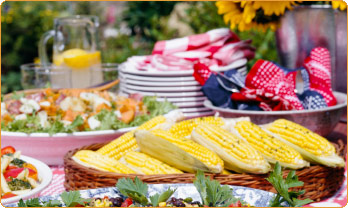 A Summer BlockBuster
Host a Kid Friendly 4th of July Picnic