Blog
/ Be a Pro Organizer this Year!
The Genius Blog
Be a Pro Organizer this Year!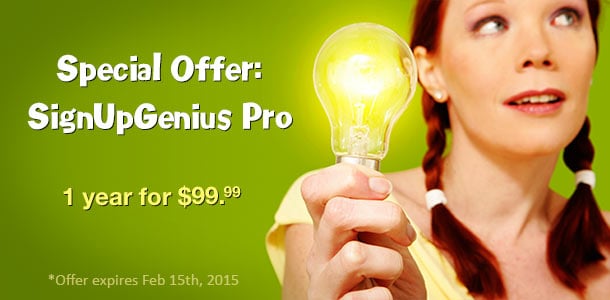 You just cracked open the 2015 planner, but it doesn't take long for your calendar to get cluttered with volunteer opportunities, fundraising obligations, events and extra-curricular activities. 
With the New Year in full swing, you may feel like you're already falling behind. Don't worry. Before the year gets away from you, we are offering a stress-busting solution to your organizing woes!
Do you need to:


    Attach a document to your sign up?


   Start or close your sign up on a specific date?


   Track volunteer hours?


   Schedule emails?


   Add multiple administrators to your account?


   Hide dates that are in the past on your sign up?


   "Lock" sign ups to prevent people from making changes right before an event?
If you've said YES to any of the above, we have the perfect time-saving tool for you – SignUpGenius Pro. And now we're offering an annual subscription for as low as $99.99 through 2/15/15. 
Ahhh… This is sure to be the most organized year ever!
 
Posted by Jeff Anderson on Thursday, February 05, 2015 12:44 PM EDT
This is my first attempt to use a sign-up. Is there a way to have one sign-up that allows people to respond to a dinner:
1. Name:
2. Number of Individual/ Family BBQ Dinner Attendees:
3. Number of Children That Would Prefer BPJ instead of BBQ:
4. Number of Children for Nursery:

Posted by Amy Tidwell on Friday, February 06, 2015 2:24 PM EDT
Jeff,

You can choose the one time option at Step 3, and at the bottom of Step 4 choose our RSVP format under "Layout Settings." You would need to utilize the slots at Step 4 to add places for parents to sign up for childcare, etc. If you would like further suggestions, please email our support team directly via the Help tab so we can assist you further.