Blog
/ Happy (Organized) New Year!
The Genius Blog
Happy (Organized) New Year!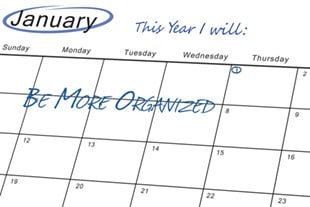 Getting organized is more than a goal – it's a lifestyle. Want to vow to get more organized and STAY that way in 2015? 
Here are our 5 Steps to a more Organized New Year: 
1. Say Good-bye to the Past
Gone are the days of sending reply-all emails and collecting cash payments. Check out our Evolution of Volunteer Organizing Infographic to see just how far we've come. You'll never look back! 
2. Jump Right In
The great thing about getting organized is that you can start TODAY. Read our Organization Tips and start incorporating little changes in to your day-to-day. 
3. Make it Your Own
Just like with weight loss, the same approach to an organized life won't work for everyone. If your first idea doesn't stick, try another one (or ten).  
4. Work Smart
Use SignUpGenius to take the busy work out of planning for home, church, sports or school. (With all the time you'll save, you may just find time to start up that new hobby you've been dreaming of). 
5. All Aboard!
Sometimes it's just not enough to only get yourself organized. Need to introduce SignUpGenius to your group this New Year to get everyone on the same page? Check out our full list of downloadable resources.

Wishing you a productive and organized New Year!
Comments
Posted by george doering on Tuesday, January 13, 2015 6:59 PM EDT
My wife & I both use Sign up Genius from the same computer. We are having trouble gaining access to our respective accounts. Can you point us to a sign out or a work around to this problem. It is very frustrating.
Posted by Teresa Clark on Monday, January 19, 2015 9:21 AM EDT
Hi George,
I'm sorry you have had trouble accessing your different accounts from the same computer.
When you have finished logging in and signing up using your account (and email address), you will want to be sure to use the 'Logout' option located in the upper right hand corner of the sign up. By logging out, your wife will then be able to login to her account. If you run into any other issues, please email the support team and someone will be happy to assist.