Blog
/ An Organized Team is Something to Root For
The Genius Blog
An Organized Team is Something to Root For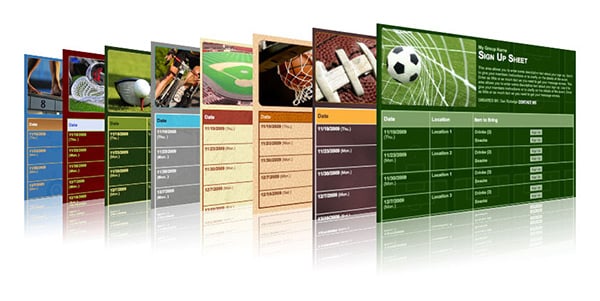 Rah, rah, sis-boom-bah! From soccer to football and crew to cross country, fall sports are in full swing. Whether you are planning the snack schedule, organizing concession stand volunteers, coordinating carpools to away games or managing the team fundraiser, let SignUpGenius be your one-stop shop for getting organized this season! 
Let us spell out why your T-E-A-M may need SignUpGenius: 
T is for TIMELY. Often sports parents are juggling a million other responsibilities as well. Send timely email invites and reminders to help everyone stay organized. 
E is for EASY. Creating an online sign up and sending it out is super-simple. Manage your sign ups at home or on the go easily with SignUpGenius Mobile. 
A is for AFFORDABLE. You don't have to spend big bucks to manage your team. Use our basic version for free, or check out our affordable PRO options to take advantage of advanced features. 
M is for MONEY-MAKING. SignUpGenius Payments can assist you in selling team merchandise, collecting money for a coach's gift, selling tickets for games and running a fundraiser. 
As you can see, there is no "I" in team, but getting organized does start with YOU. We hope you have a WINNING season! Get started TODAY!
Posted by St Fabian PIP on Thursday, October 09, 2014 12:11 PM EDT
Hi SUG
I have requested this before and would love to know if you're still considering...
I really would like the option of deciding which signups show as ACTIVE or INACTIVE on my account. From year to year, we recreate signups for the same events. Rather than recreating them, I like to just make a copy of course! So right now for example I have a few events that are set for January, even June, and I don't really want them visible right now. I have them set up as "closed" for signup, which is a great option, but I don't really want them clogging up my main page, or people thinking that they are open just because they can see them. On the other hand, once a signup ends, like my recess sept/oct, it will disappear off my current signups and I don't like this! What if people need to edit their signup or add themselves in later because they forgot to sign up? Under each page, you have a nice little button that says View / Edit / Delete. What about adding an option Hide / Unhide or something like that? I feel like this is a simple change that would be really helpful. Thanks!!!!
Posted by Amy Tidwell on Monday, October 13, 2014 10:40 AM EDT
St. Fabian,

Thank you for you input regarding features that would be helpful in managing your sign ups. We value input from users like you as this helps us prioritize future development tasks. Our development team will appreciate your comments!