Blog
/ Summer Fun #PinToWin
The Genius Blog
Summer Fun #PinToWin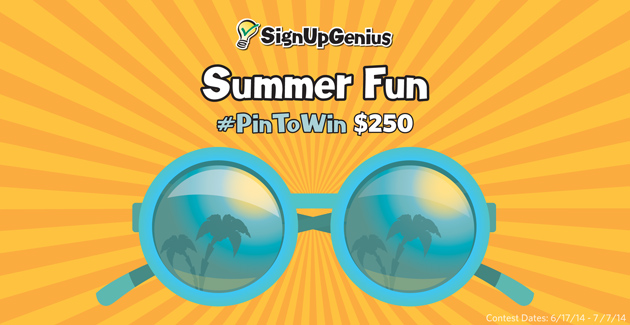 Could you use some extra cash this summer for, say, vacation spending money, a new summer wardrobe, summer party-planning funds, or a stash of never-ending popsicles? Even if you're not a sweet tooth, you gotta admit - $250 could buy a lot of sweet treats!
Beat the heat and join the fun by entering the SignUpGenius Summer Fun #PinToWin Giveaway.
Comments
Posted by peggy vysniauskas on Thursday, June 26, 2014 5:30 PM EDT
Great Website
Posted by Janet Henke on Monday, June 30, 2014 11:08 AM EDT
My church and town were flooded on June 16, 2014. We used SignUpGenius to sponsor a day's meals for flood relief workers. It was SO EASY! Thank you!