Blog
/ New Feature: Sign Up Locking by Date!
The Genius Blog
New Feature: Sign Up Locking by Date!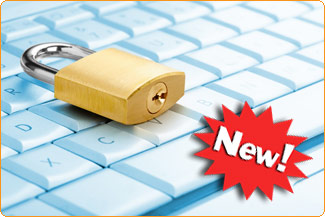 The weather is getting warmer… at least in some parts of the country… so at SignUpGenius we want to help you make a 'spring forward' in your volunteer organizing! Today we're unveiling an exciting new feature for SignUpGenius Pro users: sign up locking by date. You asked for it and we listened. Now you can create multi-date sign ups and prevent users from either signing up or changing their sign up as it gets close to the day of the event!  
How does it work? After entering all the dates of your sign up, Pro users have two new settings they can choose. You can choose to stop people from signing up as it gets close to the date of the event and you can also choose to lock people from editing or deleting their slot as it gets close to the date of the event. Chose one or both options and customize the number of days before the event that you want the lock to take place.  

This feature is a lifesaver for organizers that want to prevent their group members from making last minute changes. Say that you are a professor at an elite university known for its prestigious 'Puppetry Major' and that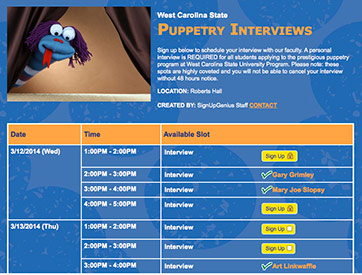 you are in charge of signing up students for their grueling application interviews, which of course include an intense sock puppet improv section. With the new locking by date feature, you can create an ongoing sign up with available interview slots on every day of the week and set it up so that once someone signs up, they cannot cancel their slot within two days of the interview. That way you can make sure that prospective puppateers can't cancel their appointment after you've already gone through the work of washing all the socks. 
Then again, maybe you are in charge of bringing the snacks to the weekly meetings of your Dendrophobia Support Group for those with an intense and overpowering fear of trees. The meeting is on Mondays but you always go shopping on Saturdays for the snacks because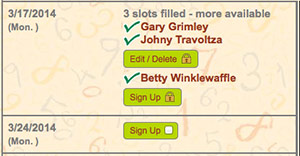 your favorite grocery store (the only one in the city without landscaping) is closed on Sundays. You have created an online sign up page where people sign up and confirm each week who is coming to the support group. With the new locking by date feature, you can also put a 'lock' on sign ups so that no one can sign up the day before the event after you have already purchased your yummy snacks and stored them in the refrigerator of your home with the paved yard and no vegetation.  
These, of course, are just the most common uses of the feature – but I'm sure that you'll find lots of new ways to use this exciting upgrade!  It's available now in all levels of SignUpGenius Pro. You can try SignUpGenius Pro today with our easy 14-day free trial!
Posted by Natalie Rivier on Wednesday, April 05, 2017 4:08 PM EDT
Hello, what exactly does 1 day mean? Is it a 24 hour period? For example, if I have a workshop on Saturday at 9:30am, I want to lock it on Friday at 9:30am. Will selecting to lock the sign up 1 day prior to the event do this?
Posted by Betsy Lytle on Wednesday, April 05, 2017 4:46 PM EDT
Hi Natalie,
Yes, locking a sign up one day prior to the event date would close the sign up 24 hours before the time of the event--Friday at 9:30 am for your workshop.