Blog
/ Holy Upgrades, Batman!
The Genius Blog
Holy Upgrades, Batman!
Halloween may be over, but we've got so many new features being released… it's downright scary! So put away your Katniss Everdeen costume (we know you wore one) and check out these treats we've prepared just for you!

Collect Phone and Address Information from your Volunteers
Our powerful email tools have always made it easy to coordinate your volunteers, but with some events you need more than just email.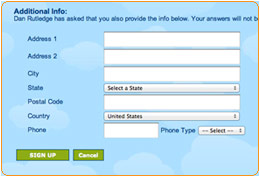 Want to collect your volunteers' phone numbers so you can reach them the day of the event? Need your volunteers' addresses so you can send them your monthly newsletter? Now sign up creators can choose whether entering a phone number or address is required as part of the sign up. The data you collect is integrated into our custom reports, which let you easily export the contact information to an Excel compatible file when your sign up is done! Now that's handy.

Simplified No-Account Sign Ups
You spoke and we listened. Sign up creators kept telling us that some of their members didn't want to create an account at SignUpGenius when they signed up, but they still wanted advanced functionality like email reminders and editing their sign up later.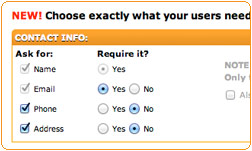 Other sign up creators were confused by the multiple access settings we made them choose from when they created their sign up. You weren't satisfied… so we weren't satisfied. We went back to the drawing board and decided to completely rethink the way we handled access settings and the way users sign up for things. What we came up with is a simpler, more powerful, and perfectly customizable setup. Now, we let the sign up creator pick and choose what users need to fill out in order to sign up. Accounts are optional by default and your users can receive reminders and even edit their items – all without having an account. We're positive you'll find the sign up settings are more intuitive and that no-account sign ups will satisfy even the most skeptical of your members! Welcome to a whole new level of genius!

Improved Admin Sign Up Tool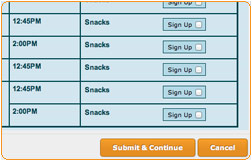 There are lots of ways people use our system. For a number of events, it is the sign up creator that is the one that is signing people up on the site using our admin tool. On a large sign up, this can be time consuming. Never fear - help is on the way! We've refreshed our admin sign up tool so that it's much faster. Once you've chosen the person you're signing up, you'll see a pop-up view of your sign up that allows you to easily check multiple slots in one simple step! This format makes it much easier for you to coordinate where people should be signed up – and even let's you sign up people for recurring positions easily. Sound simple? It is. So what are you waiting for? Get those volunteers signed up!

Modify the Header Text & Comment Text
We know you spend a lot of effort on your sign ups and want them to look just right. Now there are two more settings that help you customize it to get exactly what you need. First, adjust the column header on your sign up to specifically describe what your users are signing up for.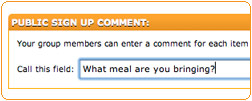 Next, customize the text that shows next to the "my comment" field that is a part of every sign up. Customizing the comment text allows you to ask for specific items you want your users to enter. For example, if you are organizing a meal sign up for a new mom, you can customize the comment text to tell users to "Enter the meal you are bringing." You can even require the comment be filled out and their answer will appear neatly on the sign up! Nice!

Ask a Custom Question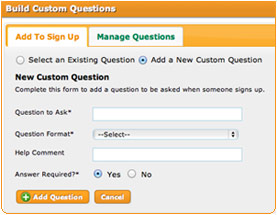 Need to ask your members more than can fit in the comment field? Maybe you need to know their t-shirt size? Or you want to find out whether they want chicken or steak for dinner? Is it important to know what classroom your parent volunteer is connected to? We can help. In addition to the comment, you can now design a custom question to ask your members when they sign up. Our new custom question tool lets you build a sophisticated question and collect your information via a drop down box, checkboxes, text box, memo field, or radio buttons! You can even add complex restrictions… like requiring your members to select at least two options but no more than three. If that weren't enough, your custom question is integrated into our custom report so you can export all the data to an Excel compatible format when you are complete! Wowzers.

Simpler Email Invite Sending
Inviting your members properly is the key to great volunteer participation! We've introduced a more intuitive invite system to simplify the process of sending out your email invites.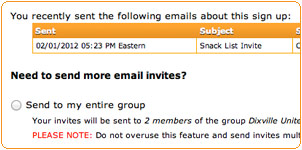 When it's time to invite, you now have simple options that let you choose between sending to your existing group or entering new members. In addition, you can now come back at any time and resend your invites without retyping the emails. And to be sure you know how many to send, we now list the status of your previous email sends so that you know whether another message is necessary.

Whew! Now that's an upgrade. We're hope these changes make the system faster, simpler, easier, more powerful… and save you lots more time. We've got quite a few more things up our sleeve for this year, so check back soon for our next round of updates!
FAQs for this Upgrade
I'm in the middle of my sign up. Will my users be confused by the changes?
No. Most of the changes involve easier setup, management, and customization by the sign up creator. For the users, the sign up process remains simple and easy to use. In fact, the new features allow you to make it even easier for your members to sign up for something.

How will the new access changes affect my old sign ups?
None of the settings of your previously created sign ups will change – but the interface for administering them will look differently. For example, if you previously used our "public with email" access setting… that setting required that users create an account at SignUpGenius with their email address to sign up. By default, sign ups created when we used the "public with email" setting will still operate in the same way (users will still have to create accounts to sign up). However, if you want to utilize our new no-account option, you can login and edit your sign up and uncheck the setting that requires accounts. So to reiterate… everything will work exactly like previously by default – but you can update the sign ups to take advantage of our new options.

I like the old settings! Can I still create a password-protected sign up like I had previously?
Absolutely! You can still setup your sign up to work exactly like it did previously by determining which fields users can sign up for. The option for password-protection and group-only sign ups are still available under the advanced security options on our settings page.

If my users don't have to setup accounts anymore, will they be able to update their data? Will this require more work for me as a sign up creator?
Under the new system, users can sign up with their name and email and bypass the account creation process. If they do not create an account, but have their email in our system, there are still two ways that they can edit their sign up item at a later time. First of all, your users will have the option when they sign up to send themselves an email with an "edit link." That link will allow them to edit the item they signed up for at any time. They can keep that email in their email program and go back to it if they ever need to edit the item. Secondly, since the user signed up with their email address… if they were to go ahead and create an account with the same email, the user would be able to edit their data. If you do not require email addresses and the user only enters their name – there is nothing they will be able to do to edit their item in the future. This is the same way the "name only" sign ups worked previously on our site.

If my users don't create an account, can they still swap their slot with other members?
Yes and no. To initiate a swap, you currently need to have an account. This just means that if a user would like to swap with another user, they register at SignUpGenius with the same email they used to sign up for your item… and then they initiate the swap. Any other users with emails in the system (regardless of whether or not they have created an account) will be available for the swap. 
Do I still need an account to create a sign up?
Yes, sign up creators still need to have an account. Having an account at SignUpGenius still has many advantages and advanced users that are utilizing advanced features at our site will still want to create an account. However, for those that have limited involvement in our site (perhaps they quickly sign up for one item), we've removed that barrier for them.

Will the phone and address information I collect be available to the other users that visit my sign up?
No. The contact information you collect is private and available to the sign up creator only. Email, phone, and address information is never displayed publically on the site. The only information that is displayed publically on the sign up form is the person's name and the sign up comment. As previously, you also have the option to hide the name and comment for a completely anonymous sign up.

How can I ask more than one custom question?
One custom question will be included in our free version of SignUpGenius. However, we're close to releasing a professional, subscription-based upgrade that will give you upgraded features including the ability to add multiple custom question and even include hidden fields that are only available for administrative purposes.

What happened to the RSVP sign up? I can't find that setting any more!
The settings for an RSVP sign up have changed slightly in our sign up creation screens. While the RSVP format can be useful for the right type of event - with our previous setup, we constantly had users accidentally choosing an RSVP sign up format when they really did not want an RSVP sign up. We've tried to make the distinction between standard sign up and RSVP sign more clear in the setup process. Instead of selecting the RSVP setting on the dates/time page, you will now choose the RSVP option in the "layout settings" area of the "slots" screen if you have created a sign up with one date.

I've got another question that's not listed here!
No problem. Write your question below in the comments and we'll be happy to answer.
Posted by Julie Steinmetz on Wednesday, April 19, 2017 11:52 AM EDT
I would like to use Custom Questions to survey folks at my school. The questions I'm asking require Text responses.

How large is the Text field (how many characters and how many lines are the limit)?

Thanks!
Posted by Betsy Lytle on Wednesday, April 19, 2017 12:23 PM EDT
Hi Julie,
There is a 255 character limit (including spaces) for the custom question text box answers. If you need additional assistance setting up your sign up, we'll be happy to help if you contact us directly at http://www.signupgenius.com/help.