Blog
/ More New Features!
The Genius Blog
More New Features!
Summer's almost over and we've just rolled out another set of new features! Planning your fall events just got even easier! Check out what we've just released!
Time Slot Creator
With our newly upgraded sign up creation wizard, you now create large time slot sign ups in a flash! Need to build a 24-hour prayer chain sign up with half-hour slots all day long? Are you creating a parent/teacher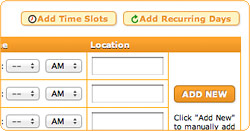 conference sign up with twenty-minute time slots for each parent? Maybe you're planning a fall festival where volunteers sign up for 2-hour periods across multiple booths? Easy. Piece of cake. No problem. Enter your start time, end time and the length of your time slot… and our system will build all the time slots for you! Enormous time slot sign ups can be created in a matter of seconds. We think you'll find lots of new ways to use our system with this great upgrade. Consider managing the reservations of your office conference room or sports facility using SignUpGenius – you can quickly build the time slots for the entire month and let people sign up!
Sign Up Slot Sorting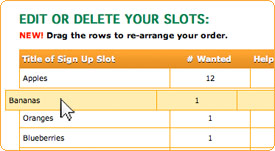 We know that when you're building a sign up, you want it to look absolutely perfect for your group members! That includes the specific display order of your sign up items on the page. We've made this even simpler for you by integrating drag-and-drop sorting of your sign up items into the sign up creation wizard! Now if you forget a sign up slot when you're first entering them, you can enter it later and easily drag it into the exact position you want it on your sign up. Nice!
Advanced Layout Settings
Our standard sign up format has always shown dates first (in chronological order) followed by your sign up slots. However, some sign up creators have asked to be able flip the format and display their sign up grouped by the slots first. We've listened and are pleased to announce that you can now choose which sign

up format works best for you! The new slot-first format is perfect, for example, for a fall festival where you want to list all your booths in order first, and then the dates/times that people can sign up for each booth. Use this slot-first format in combination with the new time slot features to create a massive parent/teacher conference sign up for an entire school in just a matter of minutes. Once you see how flexible this layout change is for some of your sign ups, you'll wonder how you ever lived without it!
Bulk Import of Sign Up Slots
We know that large organizations often manage sign ups on our site that contain dozens or hundreds of sign up items. Entering those items one by one into our system can be tedious and frustrating, especially for those that already have their list of sign up items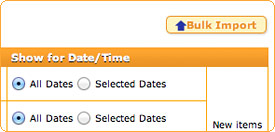 in some electronic format. Now there's an easier way. With our new bulk import feature, sign up creators can easily import hundreds of sign up slots in one quick step. When you're building your sign up, grab your list of sign up slots from Excel or Word and cut/paste them into our import box – our system will create all the slots in one simple step. Now you can create an enormous auction sign up or donation sign up in minutes! Give it a try!
Multi-Edit and Multi-Delete
We think managing an existing sign up should be as easy as building it. And we're always looking for ways to make it faster and simpler to save you more time! Our latest upgrade includes the ability to edit and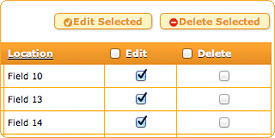 delete multiple slots or dates in one step. It sounds like a small change, but wait until you see how much time you'll save! Need to change the name of the event location across 25 dates on your sign up? Now it's easy… select all the dates and you can update the location for all those dates in one step without updating anything else! Want to delete all 250 sign up items you entered and start over? No problem… select all the sign up slots and delete in one quick step. We know this little upgrade won't win a Nobel Peace Prize or anything, but we are confident that frequent sign up creators will find it a huge help!
And… we're just getting started.
Think these upgrades are great? Don't tell anyone, but we've got some even bigger upgrades still coming that are going to revolutionize your fall signups! Keep watching our blog in the next month for the big news…
Posted by Trinity Pellas on Sunday, November 25, 2012 9:31 PM EDT
Once our signup went live, we haven't been able to utilize the Slot Sorting feature. It was AWESOME to be able to do that during the initial setup, but now we've got some 'stragglers' at the bottom of our signup that we can't get into their rightful place. Is it possible to make it so that late additions can be sorted into the main body of the signup?
Posted by Dan Rutledge on Monday, November 26, 2012 8:56 AM EDT
Hi Hunter Elementary - we'd be happy to help. Please write us via the "help" tab at the top of this page and we can make sure any issue is resolved for you. We monitor help tickets even on nights and weekends, so that is the fastest way to interact with us on support issues and to look up your specific account. We look forward to hearing from you!