Blog
/ SignUpGenius.com Unveils Exciting New "iShock" Feature!
The Genius Blog
SignUpGenius.com Unveils Exciting New "iShock" Feature!
FOR IMMEDIATE RELEASE: April 1, 2011 - Charlotte, NC
The web was abuzz today when SignUpGenius.com, provider of free online sign up sheets, announced the release of a revolutionary new feature called "iShock."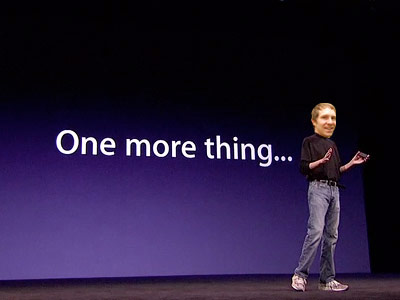 The announcement was an unexpected surprise at the end of a packed special event held in Charlotte, North Carolina. Site co-founder Dan Rutledge was strutting the stage in a black turtle-neck as he reviewed the site's typical sign up features like "automated email reminders" and "themed templates" when he suddenly paused and revealed that there was "One More Thing" to talk about. The iShock feature was then introduced to a roar of thunderous applause from the sign up fanboys, with the exciting news quickly spreading via blogs and Twitter posts.
The ground-breaking new feature is described as the world's first "electric-shock volunteer motivation technology." "We've been listening to our users," Rutledge said. "One of the things that they've been telling us is that while SignUpGenius is absolutely the easiest way to organize volunteers through free customizable online sign up forms - there are inevitably a few real losers in their groups that still won't respond for simple volunteer tasks! Let's say a teacher is sending out a request to her parents that they bring in some school supplies for the classroom. With the revolutionary new iShock - any parent who does not sign up on the easy web sign up form within two minutes of receiving the email invite will be sent a high-voltage electric shock directly through his or her computer keyboard that will temporarily incapacitate the deadbeat and make that person think twice about being such a non-involved slacker."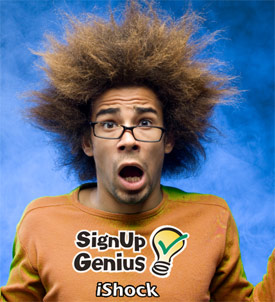 Walt Mossberg from the Wall Street Journal immediately dubbed iShock "the new standard" for free online sign up technology. Said Mossberg, "We've seen Google dabble in 'odor deterrent' technology, and Microsoft claims to be developing a 'deafening audio burst' for sign up motivation - but no one, no one even comes even close to being able to knock potential users unconscious for being so lazy that they won't volunteer. SignUpGenius is years ahead, if not decades."
Kayla Hanson, Director of Children's Ministry at Lakeside Presbyterian Church, was one of the lucky few that were given a pre-release demo of the technology. "This changes everything," said Hanson. "We've coordinated nursery volunteers with ease using SignUpGenius. But there always seem to be one or two parents that give us the old line 'We don't feel called to children's ministry.' With iShock, it's such a blessing to know that these people will experience a searing pain that is not unlike childbirth or the Day of Judgment. I have a feeling they'll be volunteering quickly the next time we ask."
Despite almost unanimous rave reviews and a two-month backlog of users that want to use the new feature, a few skeptics remain. Molly Wood, tech writer at Cnet.com, was livid that the technology left out some key functionality. "Sure, SignUpGenius can put out the sexy tech," she said, "but they don't give a flip about what users actually want. Can you customize the voltage of the shock? Are you able to choose how long your users will lose feeling in their outer extremities? Can you do wireless sharing of the electricity so that the spouses will simultaneously experience the mind-numbing seizures? No! It's just another one-size-fits-all solution from a company that has millions of people following like sheep because of their hip marketing."
Immediately following the announcement, the stock price of SignUpGenius.com went up nearly 45 points in early morning trading, and large gains were also made by most of the major utility companies like Duke Energy and American Electrical Power. "We feel like we've reinvented the sign up... again," said SignUpGenius co-founder Dan Rutledge. "It's just one more way that we're working to revolutionize volunteer sign ups for home, school, church, and sports teams all over the country. It's our hope that this new technology will spur an unprecedented spirit of volunteerism throughout the world, or at the very least provide a boost in revenue for local burn centers."
Posted by Dan Rutledge on Monday, April 04, 2011 9:58 AM EDT
Ha. Thanks! Now... if I could only shock those people that are still using paper sign ups too. :)
Posted by Will Null on Friday, May 13, 2011 4:21 PM EDT
can one of you guys sign up on my signup please?
it is: "People Who Pray"