Blog
/ NEW: Introducing Text Messaging for Sign Up Communication
The Genius Blog
NEW: Introducing Text Messaging for Sign Up Communication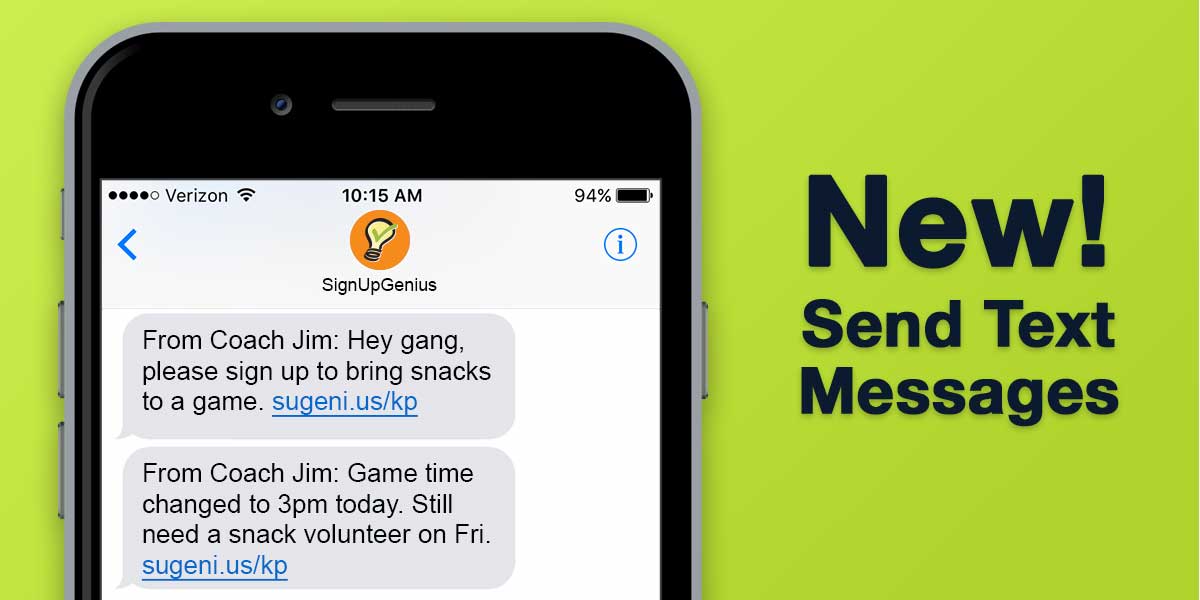 Sharing your sign up information is now simpler than ever with SignUpGenius' latest feature: text messaging. SignUpGenius Pro subscribers can share their sign up invites or updates about events with group members via text messages. 
Try Text Messaging:
Sign up participants must opt in to receive text messages. To get started, log in to your account and head to the Messages tab. Once you hit the "Compose" option, you'll be able to send an email asking group participants if they'd like to receive updates via text message. 
Once people have opted in, Pro sign up creators can return to the Messages area and select "Send a Text Message to People Participating in a Sign Up."  If using a mobile device, you'll look under the "Tools" area to find similar functionality. Participants who don't opt in to texts can receive updates via email instead. 
Your participants can opt out of text messages at any time. 
SignUpGenius Pro Silver customers can send up to 150 text messages per month; Pro Gold has access to up to 500; Pro Platinum can send up to 1,500.
Get started showing off how smart you are now. With text messaging, group organizing just got even easier!
Posted by Montour Elementary PTA on Thursday, May 18, 2017 6:49 AM EDT
Good Morning,
If members opt in to receive text messages, does the Sign Up automatically send the sign up reminder via text and e-mail?
Posted by Betsy Lytle on Thursday, May 18, 2017 9:40 AM EDT
Hi Montour Elementary PTA,
Opting in to receive text messages from a creator does not automatically update the setting to receive text reminders. The user must still choose the option to receive text reminders in additional to email reminders. From "Settings" located on the left side of their account page, they can choose to receive reminders via text for all sign ups they are signed up on, whether the sign up is created in a basic or Pro account.