Blog
/ Genius Hack: Collect RSVPs with SignUpGenius
The Genius Blog
Genius Hack: Collect RSVPs with SignUpGenius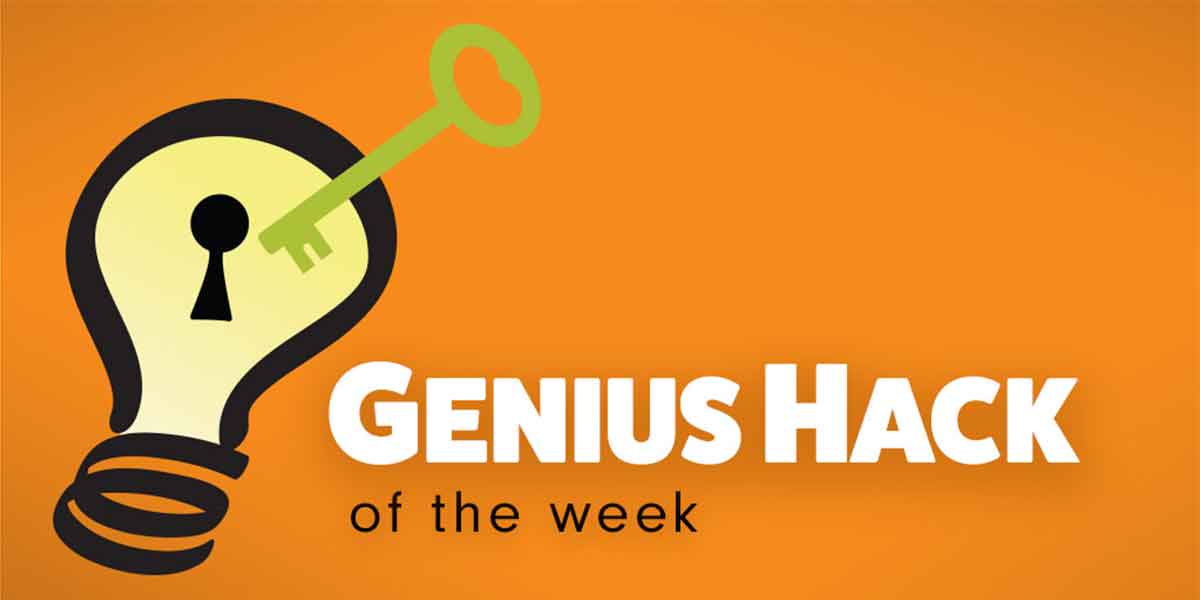 Rounding up people for events that call for more than a simple headcount requires smart coordination.  
Want to organize a potluck? You probably need to know who can bring which dishes and supplies as well as who is attending. 
SignUpGenius can help with our RSVP format that lets you see who's coming — and what they're able to contribute.  
To get started, log in to your account, and begin creating your sign up. You'll be able to select the RSVP format as long as you're planning a one-time event (chosen in Step 3 of the sign up creation wizard). 
During Step 4, select "Party or potluck RSVP" at the bottom under "Layout Settings."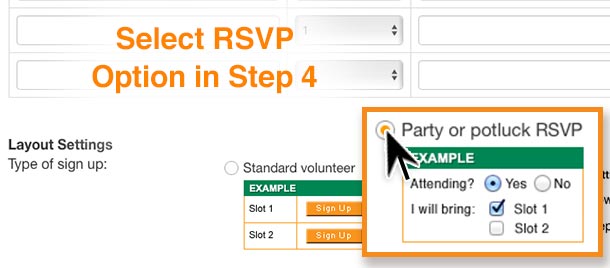 That will give you the ability to collect RSVPs, as well as additional information such as "Dish you're bringing." 
Ta-da! No more worrying that five people will bring pumpkin pie to the work Thanksgiving potluck. Plus, you can plan for how many people to feed when you're ordering the turkey that the company is providing.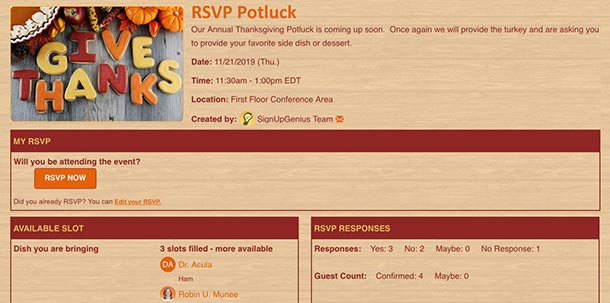 Need more advice or tips? Browse our FAQs for answers to common questions or contact our award-winning customer support staff. And stay tuned for more weekly Genius Hacks this fall.   
Comments
Posted by kris carpenterzyla on Wednesday, November 09, 2016 11:31 AM EDT
Can anyone tell me how to include a second email address for notifications, please? I have a co-worker who would benefit from knowing when our volunteers have signed up to assist us in the office. How do I loop her in to the information once a volunteer signs up?
Posted by Betsy Lytle on Wednesday, November 09, 2016 7:13 PM EDT
Hi Kris,
We offer the ability for multiple administrators to share responsibilities for sign ups as part our "Pro" options. You can learn more about these options by going to the link below:

http://www.signupgenius.com/index.cfm?go=o.ProGenius

If your co-worker simply needs to know who is signed up, you can always pass along the sign up link to her and she can bookmark it in her browser so that she can easily view the current status of the sign up at any time.

To find the link to your sign up once it is published, go to SignUpGenius.com and log in with your email and password to the account where the sign up was created. When you view the account page, you will see the tab for 'Created' and will be able to view your sign ups created on that account. Click on the image or title for your sign up. When the sign up page displays, copy the URL from your web browser address bar. This is the unique link to your sign up.