Blog
/ NEW FEATURE: Facebook Login
The Genius Blog
NEW FEATURE: Facebook Login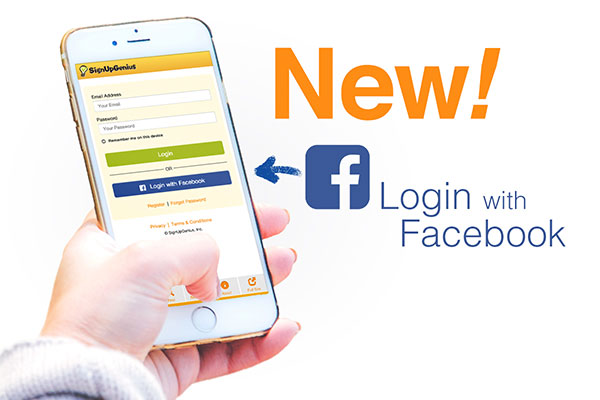 St. Nick has nothing on us! As part of our 12 Days of Christmas this year, we've hoisted our bag of goodies from the sleigh just in time to present another new feature to you. 
Facebook fans, rejoice! You can now log in to SignUpGenius with the click of a classic blue button you know and love. Just click on the blue "Login with Facebook" button on the Login Page and fill in your Facebook credentials. You'll be taken directly to your account dashboard where the magic — or should we say genius — really happens. 
What you need to know:
It's SMART: One account login and password to remember? Genius!
It's SECURE: When logging in via the Facebook application for the first time, you will be required to grant SignUpGenius access to your Facebook public profile and email address. This simply allows us to verify that you are who you say you are! We will NEVER post to your page or to your friends without your approval.
It's CONVENIENT: Once you've verified your account, you can sign in easily every time you come to our site.
It's INTUITIVE: If your Facebook account email matches your SignUpGenius account email, signing in will direct you to your My Account page with your "created" and "invited to" sign ups.
It's POWERFUL: Logging in via Facebook will allow you to sign up for events and to create custom sign ups easily. If you do not have a SignUpGenius account already, you can expect to visit your new My Account page to get started!
It's PROTECTED: As with any of the contact information you share with us, we guard it with the utmost care. Curious about our privacy policy? View it HERE.
We know you've got a holiday to-do list so long it makes Santa shudder in his big black boots. The ease of our Facebook Login feature is simply another way we're making organizing easier this season! Try it today! 
Be sure to visit the 12 Days of Christmas Page for more holiday giveaways and promotions!
Comments
Posted by Andrew Chedid on Tuesday, December 15, 2015 7:52 PM EDT
So, what's the gift?
Posted by Betsy Lytle on Wednesday, December 16, 2015 12:45 PM EDT
Hi Andrew,
The "12 Days of Christmas" gift for Tuesday is the ability to login to our site using your Facebook login. For those who are already Facebook members, we believe this feature will be very convenient. You can view all of the other 12 Days of Christmas promotions here: http://www.signupgenius.com/12-days-of-christmas.