Latest SignUpGenius Upgrades
Our little team of elves has been working hard to bring you some early holiday gifts in the form of site updates. Check out what's new!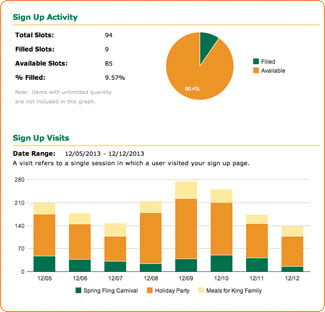 Upgraded Sign Up Web Statistics
We've overhauled the web statistics report for your sign up. Now you can:
View a graphical pie chart of your % of slots filled
View a graphical pie chart of RSVP responses
Choose a date range for your report to see sign up visits for a specific time period
View statistics for multiple reports at a time using color-coded combo charts
View a more accurate breakdown of sign up visitors with improved visitor tracking
Upgraded Custom Reports
Many of our power-users will be pleased to hear that we've updated our "List of Sign Ups" report – the report that provides all the data from your sign ups in a spreadsheet format compatible with Microsoft Excel. Previously, the system sometimes struggled building the report if your sign up was large. However, we've completely overhauled the back-end report builder for scalability. Users can now build extremely large reports without difficulty – even reports that include data from numerous sign ups at once. In addition, if the report will take a long time to create, you can choose to have our system email you when the build is complete so that you can get other things done while the report builds. Now that's helpful!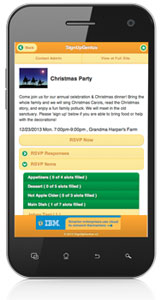 SignUpGenius Mobile Updates
We've added more of the functionality from the full website to the phone-optimized version of SignUpGenius. Now available:
The ability to contact the sign up creator
The ability to contact SignUpGenius support
The ability to view RSVP responses and guest comments on an RSVP sign up
The ability to delete an item you signed up for
Social media sharing from an RSVP sign up
The ability to easily retry a payment after a failed payment
The ability to "exit to full site view" directly from a mobile sign up page
Posted by Dan Rutledge
Posted by Dan Rutledge on Wed May 28, 2014 10:29 PM EST
Thanks for writing and great question. Some members utilize our custom questions for agreement to legal waivers. For more information, contact us via the "help" tab at the top of this page. Thanks!
Posted by South Whidbey Parks & Recreation District on Tue May 27, 2014 6:20 PM EST
how can I go about getting my signed up volunteers to sign a waiver?
Post Your Comment
NOTE: You do not need an account to post. For the ability to delete, create an account.