Everyone Enjoys a New Back-to-School Look
New Themes
Why let your kids have all the fun with the latest and greatest in school wear this fall? You deserve a fresh NEW LOOK for Back-to-School season, too! SignUpGenius has you "covered" with 75 brand new sign up themes to make your volunteer and event planning look easy, breezy, BEAUTIFUL this fall. Check them out below! 
Click on the thumbnails below for a preview.
Promotions!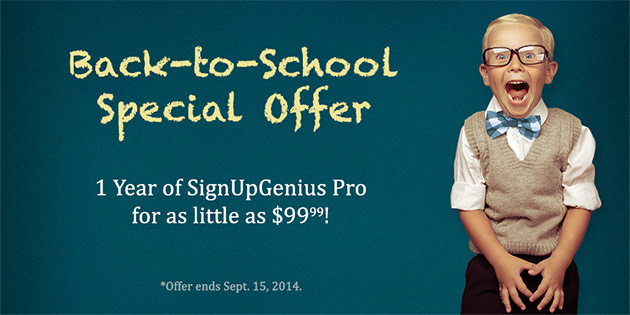 What? A whole year of SignUpGenius Pro for as little as $99? Bargain basement prices like this won't last long. With new accessories, um, we mean, features being added all the time, you won't want to miss a deal like this. Speaking of new features, how about Volunteer Hours Reports that let you track how much time your volunteers are serving across multiple events? Watch for it August 15th.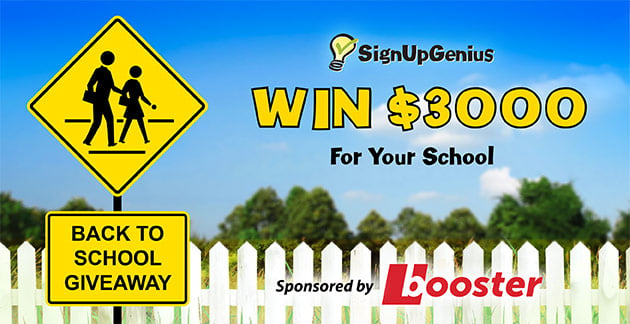 And what would your favorite school do with an extra $3000 this year? Find out in our Back-to-School Giveaway sponsored by Booster.com. We'll even add an extra $250 for you if you win. Now excuse us while we continue working on a few stunning ensemble upgrades to make your fall organizing even easier!
Posted by Kate White
Posted by Amy Tidwell on Fri Aug 8, 2014 8:17 AM EST
Thanks for the feedback, Lisa. You can upload a custom image of your own school's spirit cart to use on your sign up as well.
Posted by Lisa Waller on Thu Aug 7, 2014 3:40 PM EST
Wishing there was a Spirit Cart theme for people to help sell high school spirit items for Booster Club
Post Your Comment
NOTE: You do not need an account to post. For the ability to delete, create an account.