American Business Awards Announces SignUpGenius as Customer Service Category Finalist!
When we dubbed the month of May "MAY We Help You" month here at SignUpGenius, we didn't know how fitting it truly would be! Our team works diligently around the clock to make your experience with our site superior, and we pride ourselves on offering great customer support. Yesterday, we were recognized for that service when the American Business Awards named SignUpGenius a finalist in their Customer Service category. We will be awarded a Gold, Silver, or Bronze Stevie® Award at the awards ceremony on June 13 in Chicago.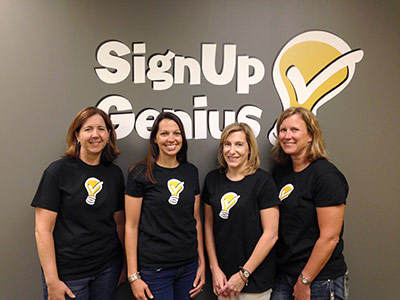 MAY we introduce our support team: Teresa, Rebecca, Amy and Kirsten. These busy moms (with 15 kids in total) are truly passionate about eliminating the many organizing challenges that stand in your way! Our support team is always available at the help page on our site. 
"The SignUpGenius team is thankful to the American Business Awards for recognizing our outstanding support specialists," says SignUpGenius CEO Dan Rutledge. "They connect on a very personal level with our users to ensure that every event organized with our sign ups is flawless. As the front line of assistance to users, they are crucial to our mission to empower people to change the world by making it simple to organize groups."
Please visit our press release to find out more about the award and our nomination. We are thrilled and honored to have achieved success in this area and are committed to high customer service standards as we continue to grow. 
If you are looking to take your SignUpGenius service to the next level, be sure to check out our MAY SPECIAL, SignUpGenius Pro for as little as $99 annually. And, please let us know how we MAY help you this month!
Posted by Kate White
Posted by Teresa Clark on Sun May 11, 2014 10:12 AM EST
Than you - "Sun City" :-) We love helping our customers maximize their use of the site and appreciate your kind words!
Posted by Sharon Larsen on Sat May 10, 2014 2:20 PM EST
Congratulations. You deserve it!
Post Your Comment
NOTE: You do not need an account to post. For the ability to delete, create an account.